SEON is using AI to redefine what it means to fight online fraud in today's world. 
From its humble beginnings in a dorm room in Budapest; the business has emerged as one of Europe's leading fraud tech startups. Because of its ground-breaking technology; strong business model and exceptional leadership; the company received the largest Series A investment in Hungarian history in 2021 and is now primed for further investment in the coming months. 
Ultimately, none of this would be possible without the innovative technology that Tamas and Bence have built; as well as their exceptional stewardship in recent years
Judges Comments:
SEON is an incredible business with a groundbreaking AI product that solves the huge problem of online fraud. This entry demonstrates concrete evidence of ROI, success, growth and expansion.
The judges say this kind of success can only be possible when driven by a fantastic leadership team. A huge congratulations to SEON's co-founder Tamas and Bence!
///

WINNER: KAITLIN fRITZ
Kaitlin Fritz is an award-winning entrepreneur; enterprise educator and business mentor who has supported 400+ entrepreneurs and student founders since 2020. 
As a Forbes 30 Under 30 alum; she combines her lived experience as an edtech founder with proven mentoring frameworks to propel UK and international teams' potential. She leads every session with the empathy of a founder and honesty of a mentor. Her expertise ranges from customer development and validation to business communication and pitching. 
She has worked with institutions like UCL; Brunel; and Kingston; as well as acceleration programmes such as the Hult Prize; UCL Hatchery; MSDUK Accelerator; and Startup Leadership Programme. 
Judges Comments:
Kaitlin Fritz is opening the eyes of children (quite literally) to the beauties and unique art/cultural experiences. 
The judges unanimously agree that what Kaitlin is doing for the younger generation today is truly inspirational and crucial. It goes beyond mentorship. It is equipping youngsters with long-lasting knowledge and a changed approach to learning, and most importantly, making it fun.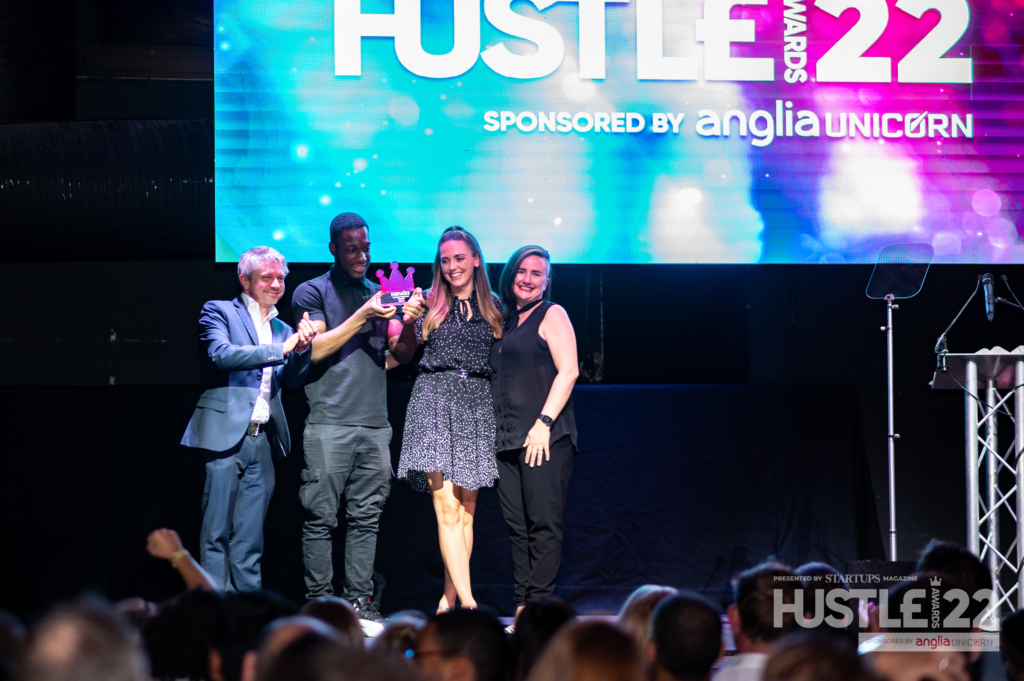 The Altnets team provides incomparable customer service to their clients. Their top-notch knowledge of the telecoms industry and strong relationships with their manufacturing partners means they can fully support customers through the whole procurement process; save them time and money; and solve any problems arising in the supply chain.
Between February 2021-April 2022; the team's success led to an incredible 700% growth in Altnets' turnover; 100% client retention and successful on-boarding of over 80% of the total client base. 
Altnets' success and great reputation is down to their work, and they fully deserve the Top Performing Team Award.
Judges Comments:
This is a company that lives by their values. Not only is there clear evidence of  Altnets strong customer retention and business growth, their entry also demonstrated the challenges they faced in achieving this success.  
All the while they continued to go the extra mile to deliver great service to their clients.  The judges loved the humanity of this entry.
///

WINNER: DR PAULDY OTERMANS

Dr Pauldy Otermans is the Founder; Chair and Principal of Otermans Institute -a young international company that is upskilling a generation of underserved learners; from remote UN camps to villages in remote and developing/underdeveloped countries; and neurodiverse learners in the UK. 
She is also one of the leading experts of AI in Education and building curriculum to improve employability among students. Her research has helped build OIAI; an AI-driven virtual teacher serving refugee learners by giving them a 24/7 personalised teacher for learning and her work has served over 30,000 learners across 10 countries in just 2021.
Judges Comments:
The judges were gripped by Dr Pauldy Oterman's entry and a unanimously agreed winner. 
The impact and scale of her work truly staggering. Her work is not only benefitting and inspiring people today, it is also paving the way and empowering future generations. 
What she is doing to help women from disadvantaged backgrounds is truly groundbreaking.
aisle 3 has built a top-down marketplace that shows shoppers all of their buying options and saves everyone hours of scrolling through endless ads; opening a myriad of tabs and checking a bunch of sites just to find a pair of sneakers in a size that fits. Their bleeding-edge AI and ML models match product offers and ensure that shoppers can see the best deals and checkout in 1-click across as many retailers as they want. Built remotely during the pandemic with offices in London and India.
Judges Comments:
aisle 3's ambitious technology could really change online shopping in a big way. The potential use of big data analysis and standardisation really impressed the judges. 
This entry demonstrates tangible benefits to both end-users and retailers. The time saving and search capabilities for end-users is game-changing. This technology also provides retailers with the opportunity to be found by new customers who never knew they existed! 
We are looking at the new face of online shopping here!
Sponsored by: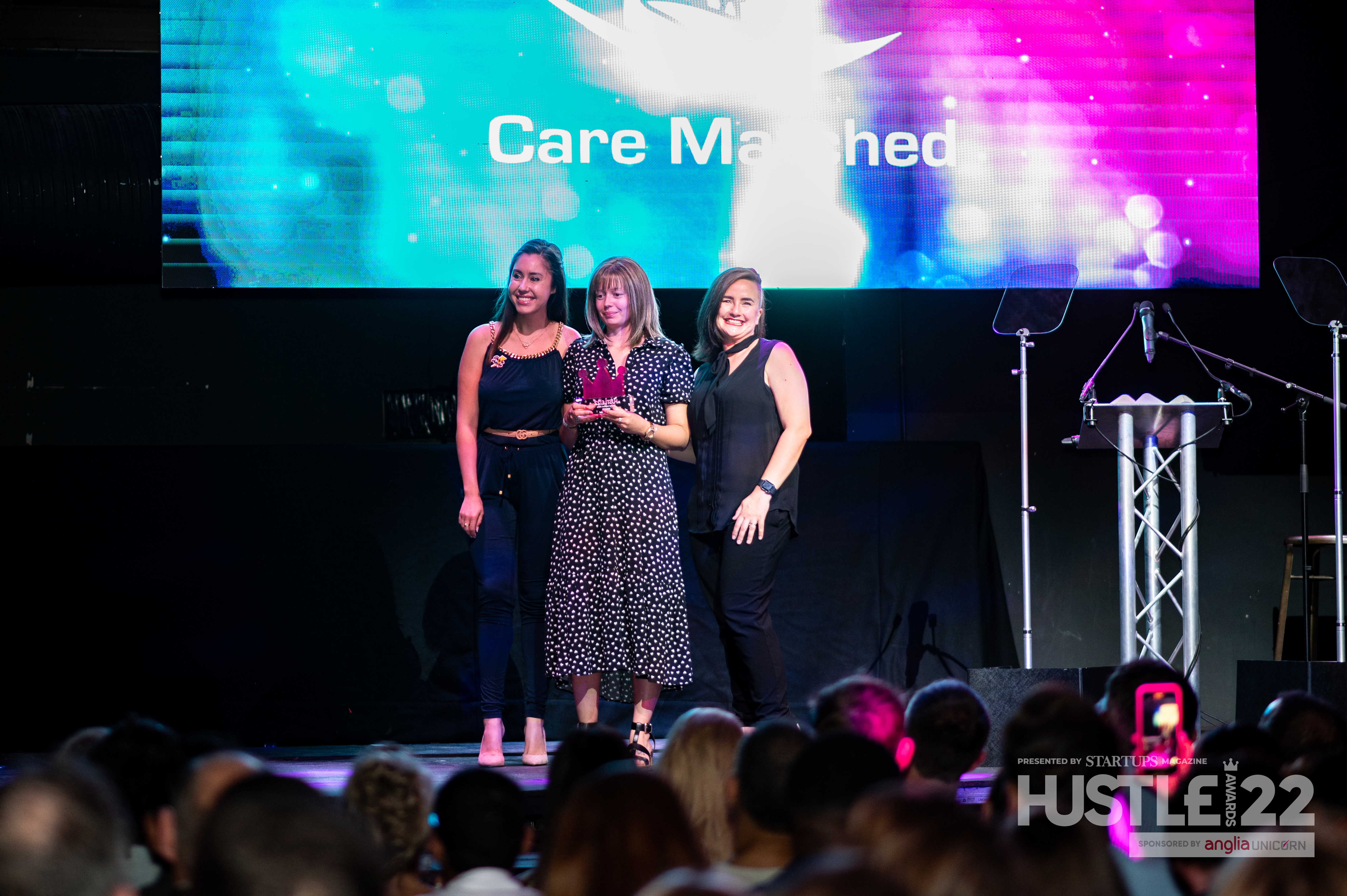 Care Matched is the first care planning app with an extensive focus on cultural matching. It provides personalised care for care workers and gives its clients the competitive edge. 
Care Matched technology gives back to those more vulnerable members of our society, ensuring that care receivers live a higher quality of life.
Judges Comments:
CareMatched is a needed solution that can help make the care sector more inclusive. 
The judges loved that this tool improved the experience of care seekers, enabling them to receive care that truly matches cultural and religious understandings. 
This product truly has turned a pain point into a strength!
///

WINNER: MEASURABLE.ENERGY


measurable.energy is on a mission to eliminate wasted energy from buildings. 
Winning the Green Award cements their commitment to making the built environment more sustainable by changing the way we view and interact with energy. 
Through a commitment to innovation and moving away from the status quo, measurable.energy has created a platform capable of delivering real and tangible reductions in GHG emissions while saving substantial amounts off rising electricity bills.
Judges Comments:
The judges were veryimpressed by measureable.energy's results and evidence of compelling work. 
They have identified a major problem and their machine learning solution can and will make a massive impact. Pilot schemes have proven significant double digit energy reduction in a range of building types. 
The highlight of the entry is their work to create behavioural change by indicating when and how users can consume less energy, at reduced costs.
///

OUTSTANDING STARTUPS SUPPORTER
///

WINNER: RAISING PARTNERS


The startups that have worked with Raising Partners have been able to scale and grow as a direct result of the capital secured and advice received. 
Whether it be via direct investment strategy support and campaign management or the education provided for free on Runway; Raising Partners exist to empower the founders and leadership teams of startups in the UK.
Judges Comments:
Raising Partners have truly empowered the startup community. Their entry gives a clear and strong demonstration of a business that truly supports and helps companies grow and thrive. 
Their winning combination of free resources and impact in the investment space, backed up by facts, figures and strong testimonials makes Raising Partners a standout winner for this year's Outstanding Startups Supporter Award.
///

WORKSPACE OF THE YEAR
///

WINNER: ALLIA FUTURE BUSINESS CENTRE


Allia's Workspace of the Year Award is all about impact and how the organisation supports Startups; entrepreneurs and small businesses so that they can grow; build resilience; scale; create jobs and achieve greater impact. 
More than just a desk; Allia's Future Business Centres offer flexible workspace and a supportive innovation environment where Startups can build their networks and their businesses – from co-working to private offices; to free events and meeting room space – all backed up with free business support. Allia's centres support Startups on every stage of their business journey.
Judges Comments:
The Allia Future Business Centre is a great example of a service going above and beyond for their customers. With businesses across multiple regions, they truly support startups throughout their journey, in addition to desk space, they provide events, business support and mentoring. 
The judges say it was a joy to see evidence of so many success stories.
///

MOST SUCCESSFUL SCALE-UP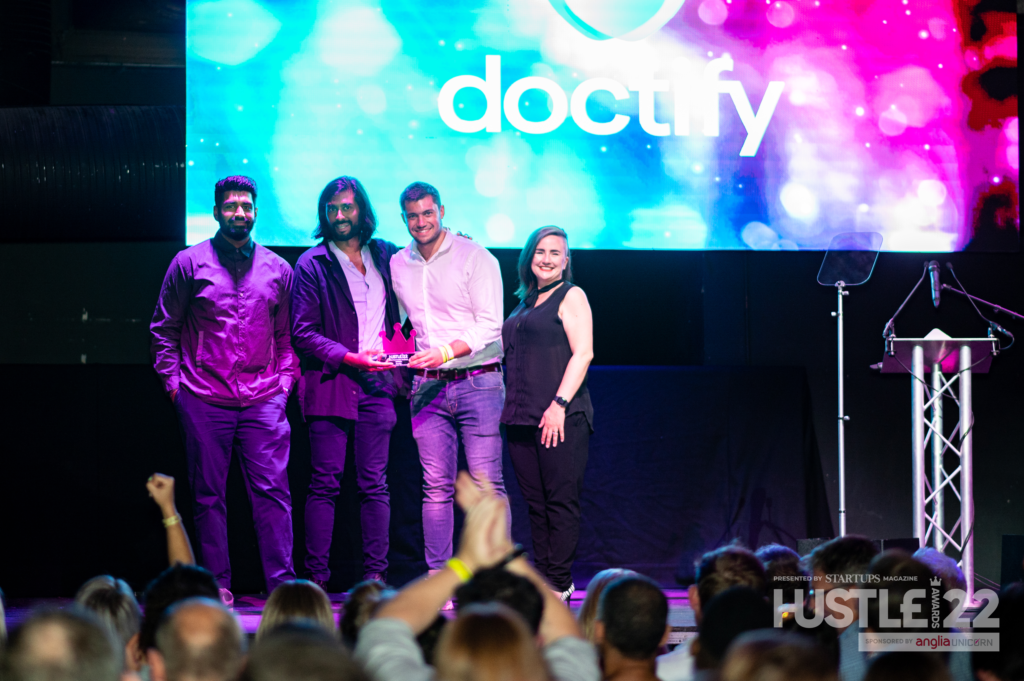 Doctify's shows the power of patient feedback in driving the right improvements and innovation in the healthcare industry.  
By giving providers the right tools to capture the patient voice; Doctify has successfully scaled up; helping more than 50 million patients make informed decisions about their healthcare.
Doctify's dedication to ensuring that no patient is left unheard is building greater trust and transparency across the sector; putting the patient in the driver's seat to steer towards improved; patient-centriccare.
Judges Comments:
The judges loved Doctify's innovation that solved a very real problem in a sector that often gets overlooked. Their growth is a reflection of how much both doctors and patients needed this solution. 
The judges were blown away by the real life customer testimonials that went above and beyond verifying why they should be crowned winner of the Most Successful Scale-up
Sponsored by: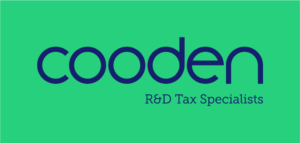 ///

EARLY-STAGE INNOVATION AWARD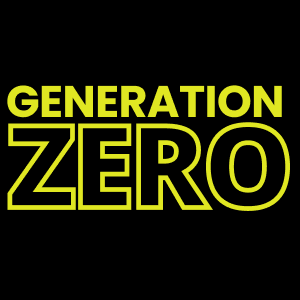 Generation Netzero Limited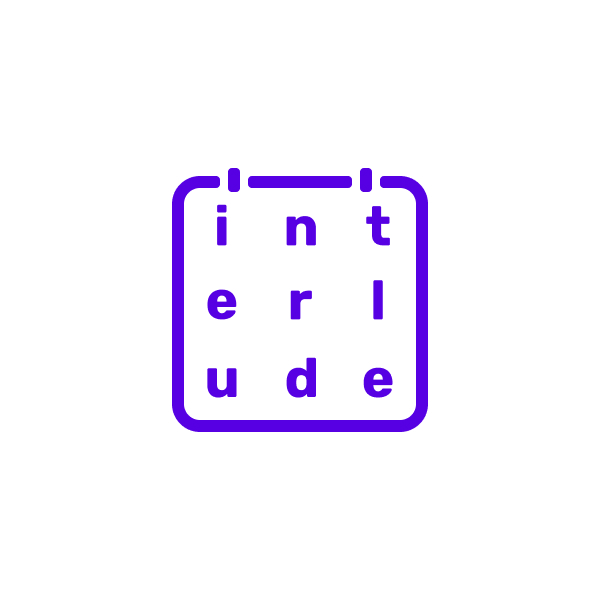 Interlude Digital Limited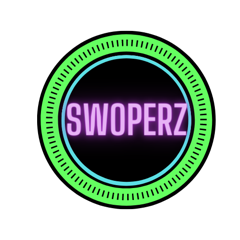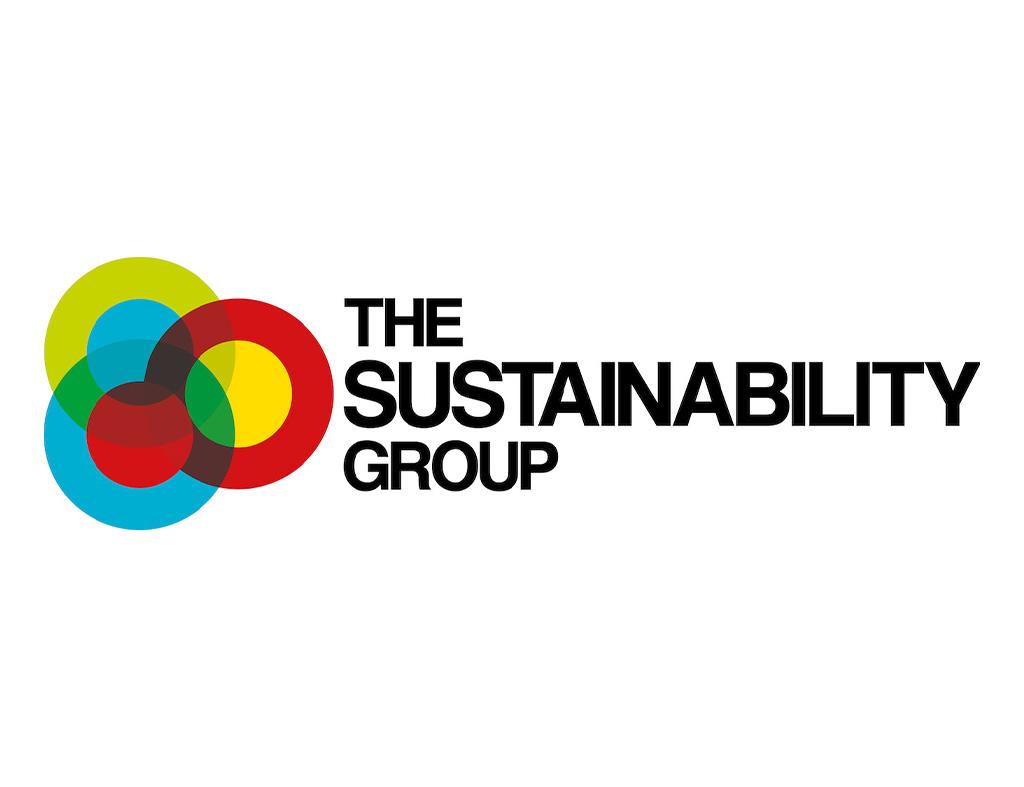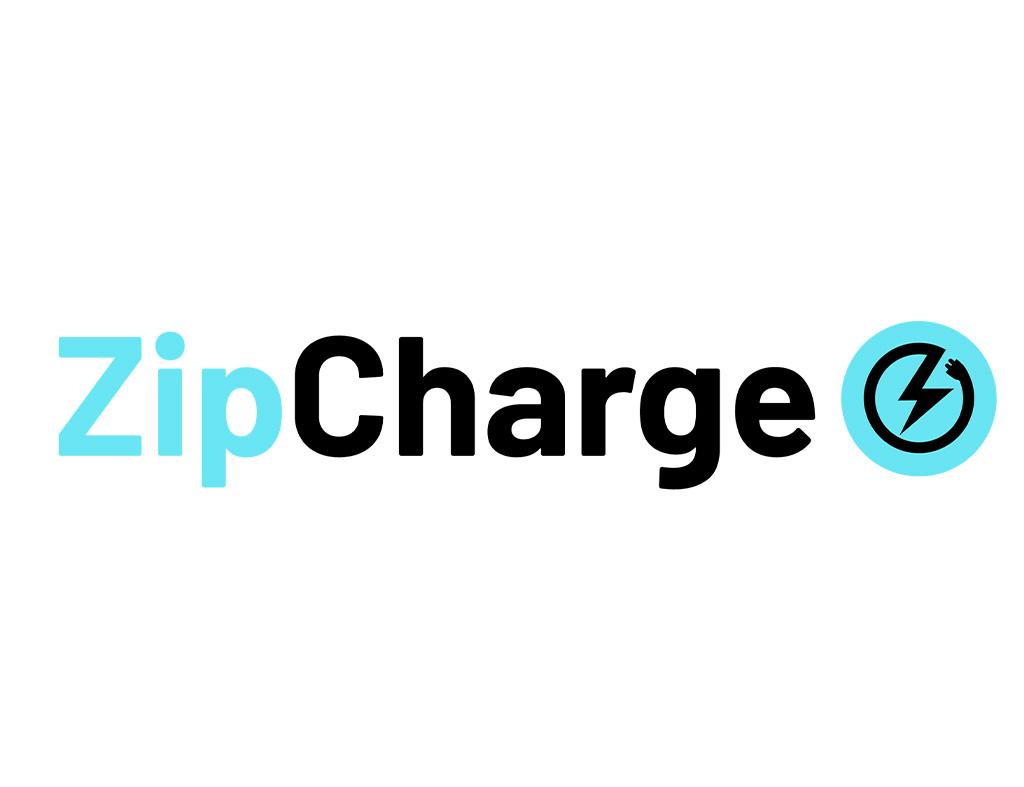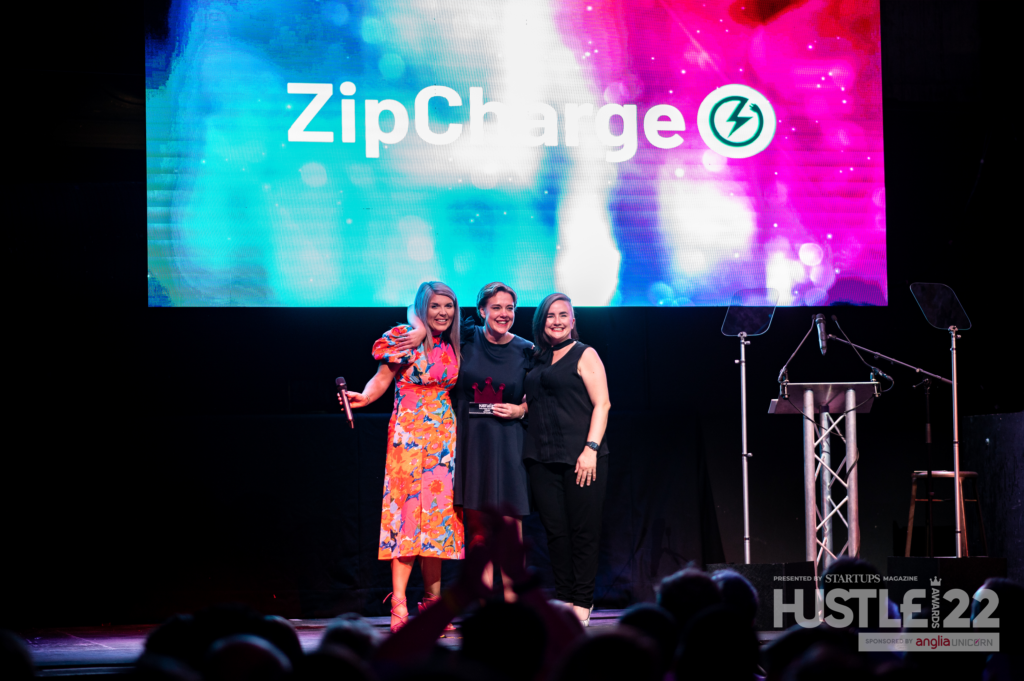 The ZipCharge Go is a game-changing solution to solve the biggest barrier to adoption of electric vehicles -charging anxiety. Over 40% of car owning households can't charge at home as they don't have off-street parking. 
The Go is a low-cost; battery based EV charger that is easy to use; small; compact and portable -it's a power bank for an EV. It provides low-cost; convenient charging; no matter where you park. However, the Go is much more than an EV charger – it's a smart energy storage device that will intelligently manage energy more efficiently to lower costs and support grid resilience.
Judges Comments:
All the judges were excited by the huge potential of ZipCharge's technology to overcome major hurdles currently affecting this sector.
The judges particularly loved the B2B and B2B business model and the idea of portability. ZipCharge have been clever, with a team of strong experts behind them and their marketing execution timed perfectly. 
This is a company to watch.
Sponsored by: